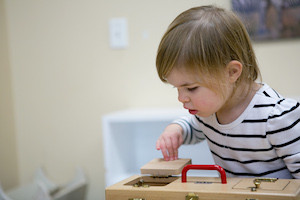 What Happens in a Montessori Toddler Classroom?
The Toddler Classroom serves children who are eighteen months to age three in a small and intimate group setting. The environment conforms to the physical needs of the children, both in the size of the furnishings and in the opportunities for motor-development. There is minimal furniture, maximum natural light, selected art placed low on the walls, toilets sized for small children, and defined spaces to challenge coordination of movement.
The classroom includes the following areas:
Practical Life Activities – Those that help the child to develop coordination, concentration and independence. They appeal to the child's sensitive period of order, imitation and self-awareness.
Sense Awareness Activities – Those that help the child awaken and develop awareness of the different characteristics or qualities of objects around us by using the senses. They appeal to the child's interest and respond to his need for observing, touching, tasting, smelling, and listening.
Language Development Activities – Those that help the child to acquire and develop the naming of each object in his environment and the mechanism of sentence structure (expression of thought). These activities must respond to the child's need to give a name to everything he meets as his capacity to create symbols and concepts develops, and the need to communicate with others as he becomes aware of himself as a separate being. Language develops through sensory-motor experiences of the child in relation to the people who are close to him or her. The child learns because he wants to communicate. He learns not only isolated words but the relationships of those words and their intent to communicate the thoughts and feelings of the speaker.
Movement Activities – Those that will help the child to develop coordination, equilibrium, and strength. These activities respond to the child's interests and needs at this stage of exploration, imitation, and seeking independence. Once the child walks by himself, he reaches another level of independence- that of being able to do things for himself. We observe at this point that he likes to take very long walks, carry heavy objects, climb, pull himself up, and try different types of movements and postures. The development of the mind comes about through movement. It is through movement that the child comes in touch and relates with his environment, and through movement called work expresses his inner life and comes in contact with others. There is an atmosphere of freedom, allowing the child to move around, explore, be independent and imitate the actions of others.
Art and Music Activities– These activities initiate the child in the use of techniques of self- expression and communication through art and music experiences.
| | | | |
| --- | --- | --- | --- |
| Toddler Programs for 2017/2018 | Annual Payment | Semi-Annual Payment | Monthly Payment |
| Full Day (8:30a-3:30p) | | | |
| Five Days | $9,325 | $4,756 | $959 |
| Four Days (Tues – Fri) | 8,210 | 4,187 | 846 |
| Three Days (Wed – Fri) | 6,150 | 3,137 | 633 |
| Half Day (8:30a – 12:00p) | | | |
| Five Days | 7,110 | 3,626 | 732 |
| Four Days (Tues – Fri) | 6,260 | 3,193 | 645 |
| Three Days (Wed – Fri) | 4,690 | 2,392 | 483 |
| Year Round Extended Day (M-F, 7:30a-6:00p) | 14,935 | 7,617 | 1,282 |
Program Fees – There is a one-time $75 Application Fee, as well as an annual $250 Registration Fee and an annual $125 Materials Fee. Sunset Care is available from 3:30p.m. – 6:00 p.m. for $220/month or $9/hour. School's Out Care (school holidays and vacation weeks) is available from 8:00 a.m. – 6:00 p.m. for $60/full day or $40/half day.